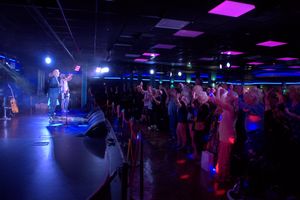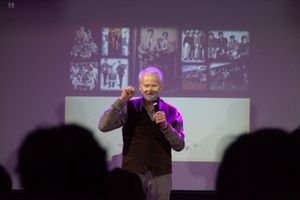 On 15 September, I premiered the new "Gospel Music and Elvis Presley" show for Elvis fans from across the United Kingdom and parts of Europe. David Wade and Carol Pugh of Strictly Elvis present the largest Elvis Festival in Europe.
This was the 40th year of the event held at Vauxhall Holiday Park in Great Yarmouth, England. The new show has received excellent comments and reviews and if you are reading this and were present for the show, please email me with your review and I would be pleased to share. One review states:  We were all seated with anticipation of what was to come next, each song was special and we were captivated with the songs we love, enjoyed fresh interpretations, and completely entertained with his wit and charisma. Royce Taylor had us laughing and crying in a very emotional show.  I highly recommend you see this show. This event was also the release of a new CD recording of the core songs of this production. Royce, "Turn Around, Look at Me" is a collection of Elvis Gospel selections from his 3 Grammy Award winning albums plus some selections I believe Elvis would approve, and special surprises.  This CD is available now in the record store of the website. 
Very soon there will be both video and audio clips available. Plans are being made to present this show across the USA and a great desire to bring it to the many friends in Europe, the U.K. and Scandinavia. Contact me for details.