So, I am in Florida for the third time this winter and scheduled to fly home. The church date is south central Florida and bass singer, Tom Graham, and I are booked to fly from Orlando at 10a.m. on Monday. 
We contracted an UBER driver and rode to Orlando International. I was expecting a rather calm Monday morning since tourists generally fly on Sunday, but oh boy, it was "spring break" and  the airport was swarming like bees in a hive. The line to check our bags was wrapped beyond the typical maze and we feared a similar line at security. 
All of a sudden, I realized I did not have my cell phone. I searched my bag and the usual places. I didn't know if it was in the Uber or had fallen out of my pocket on the walk into the terminal, but there was no time to search. 
I took the bass singer, Tom, to security and I use the TSA Pre line. I told him to meet on the other side of the check point. I waited but he was nowhere to be found and I had no way to communicate without my phone.  Somehow he got on the flight and I was left behind. 
The lovely lady at the gate found me a later flight to Cleveland however, my bag went to Columbus on the earlier ticket. Thank God I grabbed my laptop before I left the week earlier. I was able to get online and let the GloryWay office know what happened. Arriving in Cleveland, I was greeted by Kathi Moore the administrator of the GloryWay Quartet and she drove to my car. 
Next day, Tuesday, I went to Columbus for my luggage and praying my phone would be found before getting a new one. Eight hours later, back at the Ohio house, I opened the laptop to find a text message that had actually been sent earlier that day. 
Another Kathie, my agent in Las Vegas, took a chance and called my phone. A voice answered and she explained that she knew the owner. The voice was the front desk of the Orlando Airport Marriott.  Our Uber driver found the phone and left it at the hotel. The clerk gave the number to call to arrange to get it back to me. 
Don't think for one minute that God did not have a hand in this story. I want to emphasize that God cares for you. When the Bible says, "ask what you will, when it declares, cast all your cares on Him because He cares for you, when the promise is nothing is impossible for God, then receive this promise and act on it as truth. Here is what God did to make this happen. 
You see, my phone was 4 years old and the battery was failing very fast. I had thought about getting a new phone some time but had not acted on it. The sheer length of time this phone was lost, that old battery should have been empty. It would go flat in a matter of a few hours even when not in use. This time it lasted from early Monday morning until early evening on Tuesday when I was able to contact the hotel and identify the phone. 
But that's not all. God blessed again because. Justin and his wife  (of GloryWay) were still vacationing in Orlando and staying 20 minutes from the airport. Within 40 minutes a text appeared on my computer.  Angela Crank went to the hotel and retrieved my phone. She sent me a picture of it in her hand. HALLELUJAH !!!  Later that week, the phone was in my hand, once again.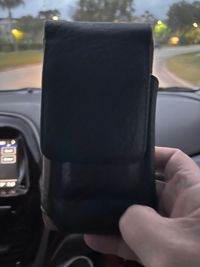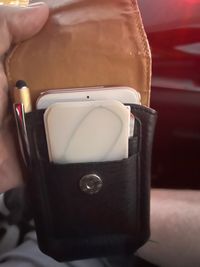 So friends, take this lesson seriously, God does hear and answer prayer. I prayed that the phone would be in good hands, it would be with someone who would make the effort to find me, That it would not be lost and the information safe. God answered all that and gave the battery extra life in the process. 
Call on Him, He will answer.