September 2021 - The Boys & Girls of Summer ...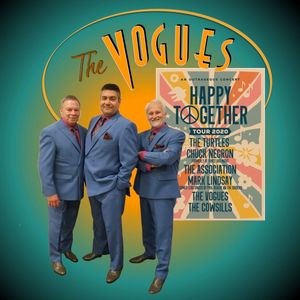 In October of 2019, The Vogues were excited by the news that the producers of the legendary Happy Together Tour had invited us to join the 2020 line up. The scheduled included 54 shows to span June through August, touring coast to coast and border to boarder. Then 2020 reared its' ugly head and the entire tour was "postponed" until 2021. Summer of '21 became an abbreviated version with 26 shows in August only. 
We flew from Pittsburgh to Long Island, NY to meet the fantastic line up. The Cowsills, Classics IV, The Association, Gary Puckett, and The Turtles, along with fantastic musicians, Godfrey Townsend on guitar, Manny Focarazzo on keyboards, Barry Waller on bass, and Chris Camilleri on drums. 
The shows began in Pennsylvania and East Coast, moved west and finished in Grand Island, Nebraska. Venues included legendary Theaters like the Riviera in Buffalo, NY Clear Lake Ballroom in Iowa, Deadwood, South Dakota just to name a few. 
I'm happy to report that The Vogues have been invited to return and hopefully do all 54 - 60 shows planned for summer of 2022. Watch the "Where's Royce" schedule page for a complete listing of tour dates. Do not miss this exciting evening of classic, memorable oldies Rock'n'Roll.