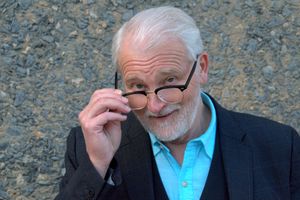 Remember last. month when I said, I asked God for opportunities? October was as exciting. Here's the wrap up.
The final week of September was the annual National Quartet Convention, the biggest Southern Gospel Music event in the country. It is held in Pigeon Forge, TN and is an epicenter of Gospel Music legends and those walking their first footsteps in the business. Years ago with the Stamps and Toney Brothers, I was privileged to sing on the big main stage events. Maybe one day this will be again.
Now, I go to hang out, reconnect with friends I may see only at this event, and certainly to make new friends. This year was no exception. Spending time with Elliott McCoy and Three Bridges, Danny Funderburk, long time friends Curtis and Tammy Sumner of Faithful Crossings, Clacy Williams of the Fatih Harmony Boys, Ken and Jean Grady of Gospel Music Today ... I must stop because I will no doubt leave out someone special and it is not intentional. 
After, I went home to Nashville to catch up and in the process reconnected with Joseph McKelvey, originally from south New Jersey but now living in Tennessee. In 1970 When the Gospel Chords uprooted from Youngstown, Ohio and moved to Springfield, Missouri to attend Evangel College, we were unable to take our lead singer, Mark Maynard (as in Mark and Cindy Maynard Ministries) because he was still in hight school. In our dorm was a young man, Joey McKelvey and what a voice he had. He joined the Chords singing lead for the year we stayed in Springfield. After this, He became the founding pastor of a marvelous, powerful church in the Catskills region of New York, then retiring in Tennessee. A great surprise and blessing to see him again after 50 years (YIKES, that's hard to imagine).
More surprises, 2 more church concerts came calling on short notice. Old Springfield United Church of Christ in New Middletown, Ohio and First Nazarene in Loudonville, Ohio. Renewal Trio had a powerful ministry concert in Morgantown, West Virginia. And on 21 and 22 October, the Vogues had great shows in Wisconsin and Illinois.
The icing on the cake came at the end of the month with the marvelous "Malt Shop Memories" Cruise in the Caribbean, a week of great oldies music. The Vogues shared this event with, Gary Puckett, Little Anthony, Gladys Knight, Jay Siegel's Tokens, Darlene Love, Dean Torrence (Jan and Dean), Jay and the Americans, The Drifters, Comedian Tom Dreesen, and Elvis Tribute artists, Jay Zanier, Anthony Shore, Matt Cage, and Dwight Icenhower. Music filled every corner of the cruise with so many great artists.
But the real highlight for me was to walk the decks and meet and greet with so many who sailed. Thank you all for the wonderful positive comments on our show and the chance to talk and get to know so many wonderful new folks. I look forward to seeing you again at a concert near you here on the mainland.
WHAT WILL NOVEMBER bring?