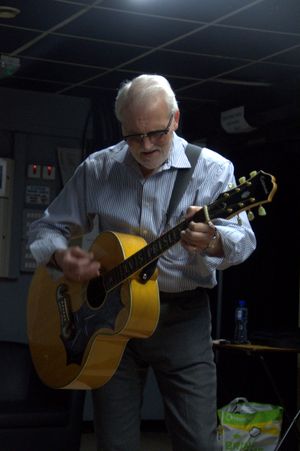 I have said many times, I wake in the morning and wonder what God will do next and take me by surprise. September was filled with wonderful surprises. 
Now, if you think God is too busy with the "whole world" or too busy looking after "the important things" to consider your prayer, you are missing out on one of the most powerful blessings God has for His people. 
Psalms 17:6 says;  I call on you, my God, for you will answer me; turn your ear to me and hear my prayer.
And 1 John 5:14; This is the confidence we have in approaching God: that if we ask anything according to his will, he hears us.
I ask God for direction, answers, and even opportunities. I get specific. Too often we ask in generalities, like God bless me today. When God is waiting for you to be specific. Now consider what the Apostle John said in the verse above. if we ask anything according to his will, he hears us. 
So, case in point, I asked God to send opportunities for me to sing in the weeks following the busy August tour. Suddenly,  GloryWay Quartet called asking if I might fill in for John Cole. At that concert Bob and Joyce Spammer from Southern Gospel New York invited me to fill a vacancy in their concert. In the meantime, Renewal Trio had a wonderful time in Lamar, PA. Following the afternoon in Spencerport, NY with Bob and Joyce, I had a morning worship in West Middlesex, PA. Once again, GloryWay used me another weekend, followed by a fantastic show with the Vogues at the American Music Theater in Lancaster, PA. You see,  God answered my request for meaningful work and September was filled.
Jesus said, in the Sermon on the Mount, Matthew 7:7-11: "Ask and it will be given to you; seek and you will find; knock and it will be opened to you. For everyone who asks receives, and he who seeks finds, and to him who knocks, it will be opened. 
"What man is there among you who, if his son asks for bread, will give him a stone? Or if he asks for a fish, will he give him a snake?  If you then, being evil, know how to give good gifts to your children, how much more will your Father who is in heaven give good things to those who ask Him!
Do you remember as a child when Mom or Dad would call out your name? Remember how even in the middle of noise, that voice would cut through, you would know that voice? Jesus also said in John 10:27 (KJV) My sheep hear my voice, and I know them, and they follow me. Do you know the voice of your savior? 
Think of that great old hymn, "In The Garden" ... "And He walks with me and He talks with me. And He tells me I am His own." God wants you to walk with Him, talk with Him, hear His voice, follow, be led to those green pastures, and to know that He does hear and answer your prayers. 
So, have confidence that God hears you, ask and wait for the answer. Sometimes it takes awhile because God often uses other people to facilitate. If they aren't listening then it might be delayed. Think about that!
I call on you, my God, for you will answer me;
Now, the Malt Shop Memories Cruise is coming the end of October. I can't wait to see what surprises God has in store.