I am so excited to talk about April 2022 and all the great things happening. 
New Years weekend, I was watching TBN (Trinity Broadcasting Network) on Sunday night. The Mike Huckabee show came on. This is a late night entertainment format show with multiple guests, stories, comedians, and music. This particular show featured musical guests, 1960s Motown singing sensations, "The Spinners." WOW 
When the show ended, I said, "If The Spinners can appear on Huckabee, why not The Vogues?" So, I sent a text message to my friend Tre' Corley, director of the the Music City Connection, the amazing band that drives the Huckabee music scene. He responded that it was a great idea and had the producer of the show contact me. 
April 9, The Vogues made our first appearance on this great show singing "Five O'clock World and Turn Around, Look at Me."  The response has been incredible and the staff that makes this show tick (every pun intended) were fantastic.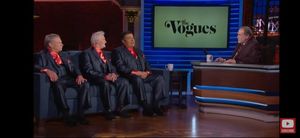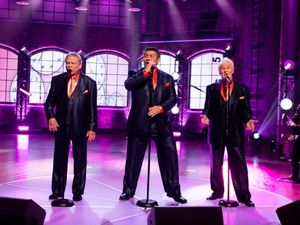 Later in the month, I am making my first singing return to Europe in 3.5 years. I am, once again, working with Elvis tribute giant, Dennis Jale of Vienna Austria. Dennis has hosted the TCB Band concert tours across Europe for years, and I had the pleasure of doing with him for 8 years in the past. 
Now, with a new group of talented singers, we will once again share the stage, sing the great hit songs of Elvis and share also the wonderful Gospel Music of Elvis, as well. 
I am so excited to return and see the many wonderful friends I have made in Austria, Germany, and Denmark on this tour and look forward to the future that may include Norway, Sweden, Poland, Slovenia, Italy and maybe a return to the U.K. 
May also holds a great opportunity in Sand Springs (Tulsa), OK at the 5 West Outpost music venue, I have been talking with my friend, Red Polston, and we finally said, pick a date. So here it is; Saturday, May 14, 2022 - Let's make the house shake that night with great music and the mighty power of the Most High. 
If you are anywhere near Tulsa, don't miss this night. Trust me, it will be worth the drive.